Save Money And Precious Time And Get Your Bank Checks Online
More than likely, you're no stranger to making online purchases. You've probably discovered that buying some things online is actually cheaper than going to the store and purchasing them there. What you might not have known, though, is that you can even buy your personal bank checks online. Not only can you save as much as 50% off their cost, but they usually have lots more designs to choose from and you could possibly even get them delivered faster than what your local bank could do for you. That's a real bargain!
In the past, few people actually liked going to the bank and ordering checks. Making a special trip there was boring and tiresome and you were generally met with few designs once you got there. Plus, the really appealing looking check series were often expensive and not ones that you could easily afford. As a result, you probably ended up buying bank checks that you could afford but that you really didn't like. It was hard to find something that was reasonably priced and appealed to your sense of style or personality.
The good news is that these days you don't have to settle for boring check designs anymore. You might even be surprised at just how many different check series there are out there and how inexpensive they can be when you order them online. You can find practically anything, depending on what your interests are, and you don't have to spend a ton of money in the process. Not only that, you can also come across matching accessories at a fraction of the price that you would have paid at your local bank.
You will find that there are tons of different check series to choose from so finding something that appeals to you shouldn't be difficult. You can discover check series that contain images of famous landmarks, beautiful landscapes, animals, children, colorful patterns, inspirational quotes, and even popular organizations. Now, your bank checks can be an extension of you and your personality and each time you hand a check to someone they can get a better sense of who you are.
When you get coordinating accessories with your new checks you can really help complete your new look. A matching leather checkbook cover featuring the same design as your checks, coordinating address labels, and corresponding contact cards can also be purchased along with some check designs. If the high price turned you away from buying them in the past then you'll be glad to know that even the accessories are cheaper online.
There's no need to be concerned about getting your bank checks online, either. As long as you use a reputable website you can count on your transaction being secure. Plus, it only takes about 5 days to get them in the mail. You just need to know your routing number and your checking account number.
Before you order checks, check online for coupon codes and to save up to 50% off your next order of bank checks.
Special Offers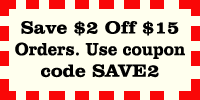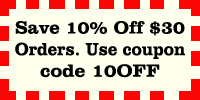 Featured Check Designs