Order Checks Online at Rock Bottom Prices
In the past, when you went to order checks from your bank you probably discovered that there were actually only a few different kinds of designs to choose from. Most were plain, although some had some color to them. Others might have included your initials. No matter what you chose, however, you could count on paying a high price for them and waiting a long time before they actually got there.
Thanks have changed nowadays, though, and that's all for the better. These days, you can order checks online and not only have lots of designs to choose from, but even save as much as 50% off their price, too.
If you haven't needed to order checks lately then you might just be surprised at how many options you have when it comes to picking out what you want. Not only are there tons of designs available, but there are also different kinds of checks that might make your financial recordkeeping just a little bit easier.
Side-tear checks is just one example of the different check styles that are out there. These are actually preferable to a lot of different people because some find the top-tear checks too inconvenient to use. The top-tear checks are easily ripped when trying to remove them so taking them out from the side might be a little bit easier for some. You can still find side-tear checks with great looking designs.
When it comes time to order checks, another popular style that is becoming used more frequently is duplicate checks. These are a lot of fun because once you write out a check, a carbon copy is left behind. If you're worried about your record keeping then these can be great because you have your own copy of your checks right there on hand for you to go back and look at.
You can also be assured of finding some check design that calls to you and your individuality. There are so many designs out there on the Internet that it could be overwhelming-if it wasn't so much fun! There are many designs that feature your favorite foods, sports, hobbies, colorful patterns, and even ethnic background.
A lot of the different check series even have rotating images. This is a terrific idea because it means that every check you write will look different from the one that you wrote before it. Some of these even look like little miniature works of art!
When you order checks online don't forget to check out the matching accessories that are available for purchase with most the of the check series, too. These look great when matched with your new checks, especially when you pair them with a coordinating checkbook cover, address labels, or contact cards. When you get them online you'll end up paying far less than you would have at your bank, too.
Special Offers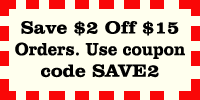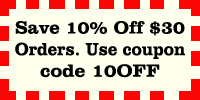 Featured Check Designs